Biologically Inspired Materials Laboratory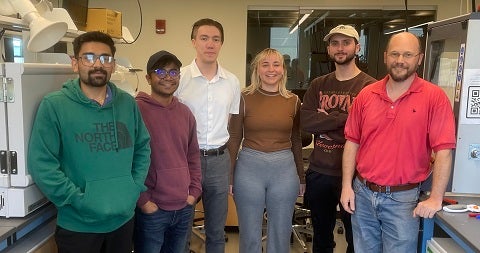 Research Areas
Stimuli-Responsive Materials
Stimuli-responsive materials mechanically respond to changes in their local environment (such as temperature, pH, or light). This change can be used to release drugs, change the physical properties of a surface, or generate force, making these materials ideal for applications in drug delivery and tissue engineering. We are developing new materials that utilize the thermoresponsive behavior for use as bio-inks for 3D bioprinting and as nanoparticles for targeted drug delivery. Our base system is that of elastin-like polypeptides (ELP) which are protein-based materials that have been studied for several decades. The ELPs are biosynthesized in bacterial expression systems and recombinant DNA technology is used to control the precise structure of the material.
Collaborators:
Tobias Pirzer
Department of Physics
Technical University Munich, Germany
Kiril Streletzky
Department of Physics
Cleveland State University, Cleveland, Ohio
Thorsten Hugel
Institute of Physical Chemistry
Albert-Ludwigs-University Freiburg, Germany
Antifreeze Proteins (AFP)
Our laboratory is applying protein engineering techniques and synthetic chemistry towards the design of new antifreeze protein constructs, which could be utilized in applications such as storage of donor organs and tissues, ice slurry stabilizers for use in refrigeration systems, and food storage. Antifreeze proteins function as inhibitors of ice crystal growth by binding to ice crystal surfaces and slowing or stopping the propagation of the crystal. Our approach is to increase the number of ice binding domains per molecule, which increases the activity of the protein, particularly at low concentrations.
Collaborators:
Özge Can
Faculty of Medicine
Acibadem Üniversitesi, Istanbul, Turkey
Frank D. Sönnichsen
Organic Chemistry
Christian-Albrechts-University, Kiel, Germany
Sakae Tsuda
Bioproduction Research Institute
National Institute of Advanced Industrial Science & Technology, Sapporo, Japan
Protein Engineering for High School Students
To key part of our research requires the design of novel protein-based materials. This protein engineering is accomplished by producing DNA genes that code for the specific polypeptides that we desire. Basic molecular biology techniques are used to build these genes, which are then put into bacteria to make the polypeptides. Since the techniques used to design and produce the genes are well established, this work can be done by high school students. We are working with local high schools to provide opportunities for their students to prepare genes to contribute to our research projects. As part of this, we are optimizing the high school laboratory procedures to increase the probability of success while minimizing hazards.
Collaborators:
Edward Turk
Science Department
Gilmour Academy, Gates Mills, Ohio